Home Tour: Ball-Paylore House
SUN 11/13
9:00 AM – 1:00 PM
Free: Reservations Required
LOCATION: 2306 E. Waverly Tucson, AZ 85714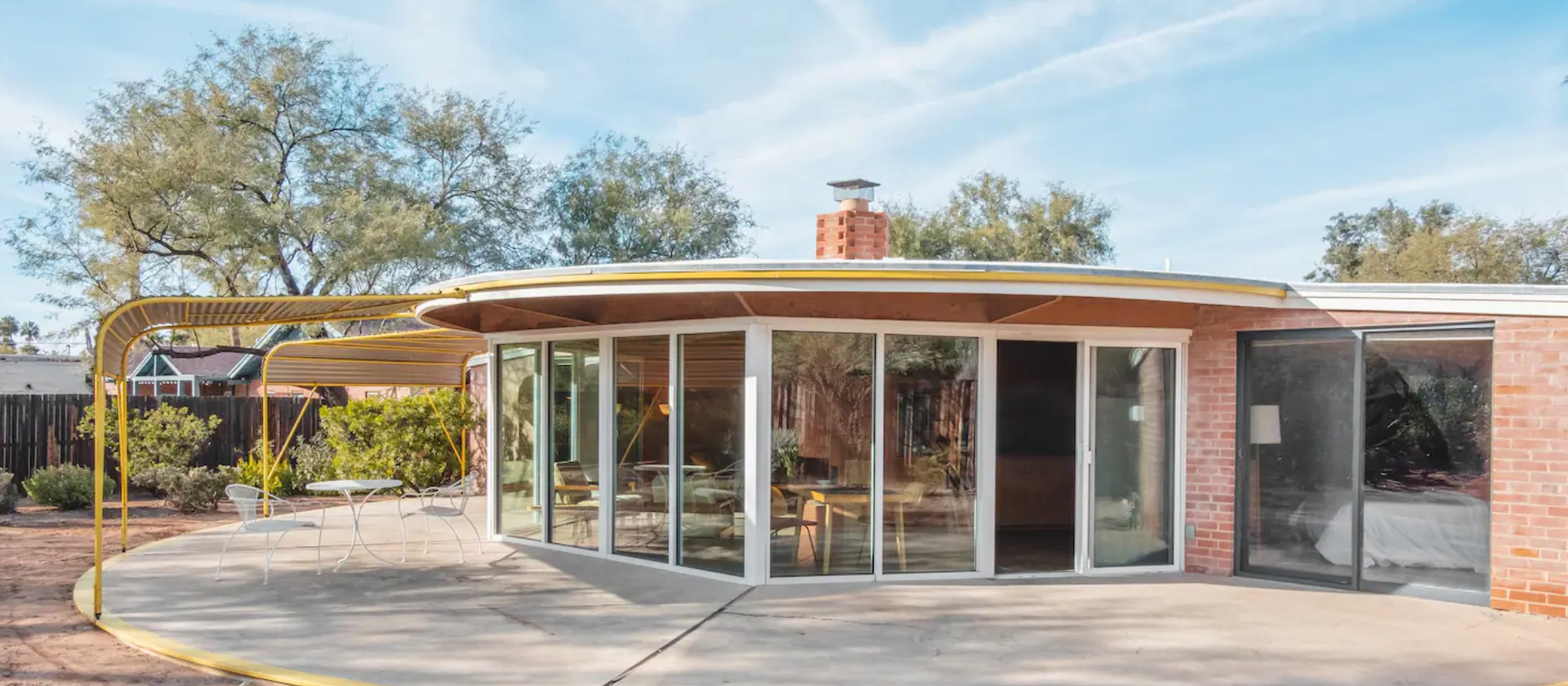 SOLD OUT
Join Tucson Modernism Week for our Mid Century Modern Home Tour of iconic properties by some of Tucson's most celebrated architects and designers of the Mid-Century era. 
The hexagonal Ball-Paylore House, built in 1952, embraced the trends of American modernism with a south-facing wall of glass built with experimental concepts embedded into the architectural design utilizing passive solar systems.
Commissioned by two young University of Arizona librarians, Phyllis Ball and Patricia Paylore, the small 1203 sq ft site-specific house was conceived to meet their needs, create a refuge in the desert, and bolster indoor-outdoor livability. Designed by master architect Arthur T. Brown, Fellow American Institute of Architects, and built by Robert Thomas, the house has become an icon of desert modernism.
Understated and plain from the street, the geometry of the house opens up as you enter the front door. The front facade, with a focus on privacy and minimal ornamentation, is characterized by an angular open carport, mortar-washed brick and windows set high between the beams at the ceiling. This creates a strong juxtaposition to the interior which is open and expansive with interactive glass window walls blurring the lines between the indoor and outdoor patios and yard. The geometry of the house creates a living room that wraps around the three-sided fireplace and into the kitchen with radiating beams that combine with the glass window walls to create a sense of space greater than the actual dimensions of the rooms.  In 2019 the iconic house was purchased by the Tucson Historic Preservation Foundation and restored. 
The Ball-Paylore House is a proud member of the international consortium of important 20th Century House Museums: IconicHouses.org
Special Instructions:
The tour is self-directed and docents will be present at the home. Participants drive themselves and can visit the property anytime from  9 AM – 1:00 PM.
Because of the historic nature of these properties, there are irregular steps and surfaces, long dirt driveways and narrow hallways.  As a result, accessibility is limited.
No commercial photography is allowed.
This event is free, however we ask you to reserve a spot so we can anticipate how many will be in attendance.  Reserving your spot below is only for the visitation of the Ball-Paylore house.