Tour: Inside the Sunshine Mile
Sat
10/5
2:00 PM - 5:00 PM
LOCATION: Check in Sunshine Mile, Solot Plaza, 2631 E Broadway Blvd. Tucson, Arizona 85716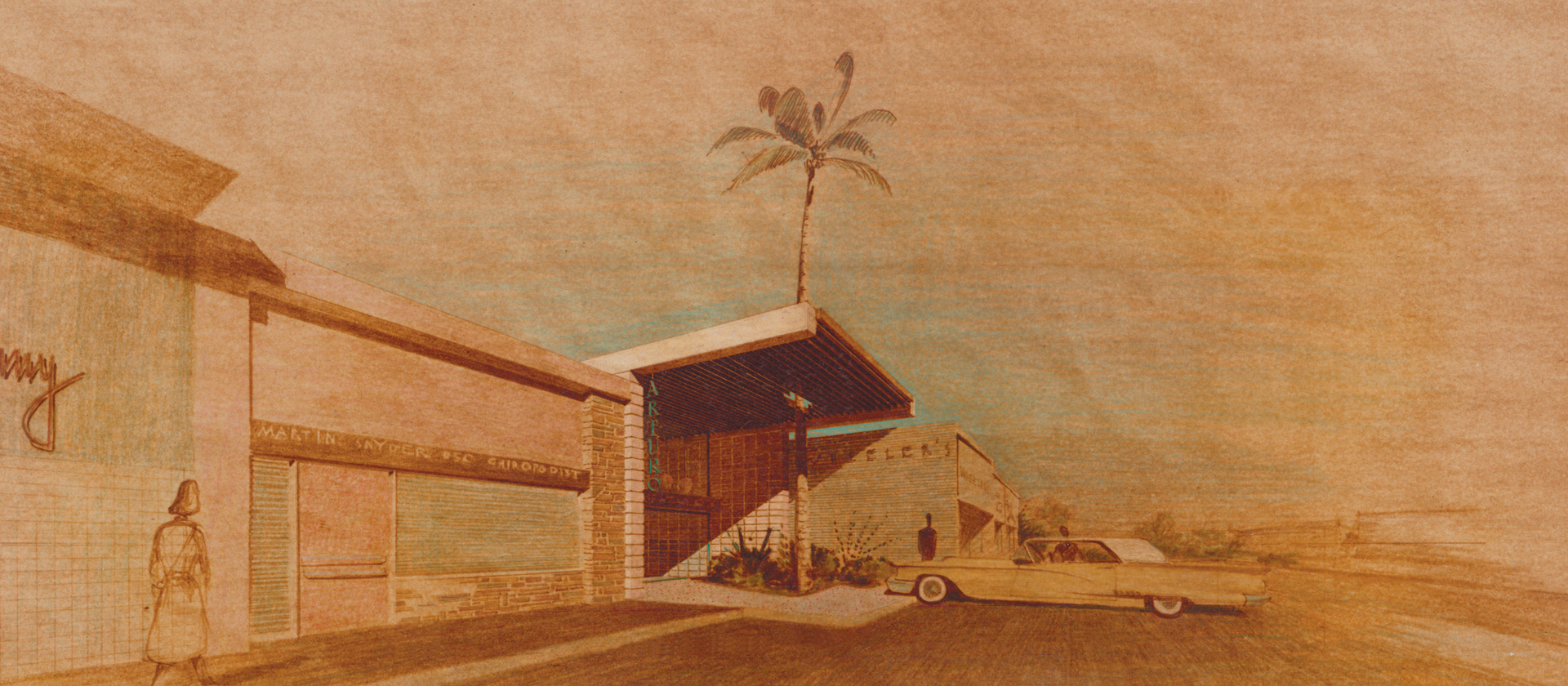 AIA Southern Arizona Chapter presents "Inside the Sunshine Mile."  This special event is self guided tour of the historic Friedman Block and Solot Plaza, featuring displays of historic information, newly activated store fronts, mid-century and contemporary architectural drawings,
local artists, information on the Sunshine Mile Urban Overlay District, and food trucks
Presented as part of the annual Architecture Week and in coordination with Tucson Modernism Week the American Institute of Architects Southern Arizona Chapter (AIASA) will host a tour of two blocks of the area known as the Sunshine Mile. 
The historic Sunshine Mile, named by the East Broadway Merchants in 1953, features post World War II design by notable Tucson architects including Nicholas Sakellar, Bernie Friedman, Anne Rysdale, and Cecil Moore. With construction about to start on the widening of Broadway Blvd. and public workshops completed for the urban overlay district, the AIASA is interested in raising awareness and continuing the public conversation on this important place in our community.
The AIASA is coordinating with the Tucson Historic Preservation Foundation on several events over the first two weeks of October on the Sunshine Mile. The area is within the Rio Nuevo TIFF District and revitalization district and Rio Nuevo will also be on-site to discuss the revitalization of the blocks and the Sunshine Mile Urban Overlay District.
What to expect
Selective store fronts between Plumer and Treat Avenues in the Friedman Block and the Solot Plaza will be opened and participants will be invited to view:
Mid-century modern and contemporary drawing exhibits
Tucson Modernism Documentation Competition drawing entries
AIASA Firm Boards Traveling Exhibit
Local artists exhibits
A Rio Nuevo hosted room where tickets can be purchased  
Information on the future of the building and the Urban Overlay District
Food trucks will be on-site at the Friedman Block.
Check in and orientation will be at 2631 E Broadway Blvd.
To learn more please visit:
AIASA