March 24, 2018 10:00 am - 3:00 pm
2900 North Craycroft Road, Ft. Lowell Park, North-east corner of the main parking area
Home Tour: Six Legendary Adobes in Fort Lowell
March 24, 2018 | 10:00 AM – 3:00 PM
Online general admission tickets to the 2018 Home Tour are Sold Out.
DAY OF TICKET 
Because of overwhelming interest in the Tour: Six Legendary Adobes in Fort Lowell we will be releasing a limited number of tickets the days of the tour (March 24) after 12:30PM. These tickets will be released in-person on first-come first-serve basis Cottonwood Lane in Fort Lowell Park at 2900 N. Craycroft Road (northwest of the main parking area.)
COCKTAIL PARTY & WITH VIP HOME TOUR TICKETS 
A very limited number of Tickets are still available for the Friday, March 23rd Cocktail party at the Historic Pasquale Court (one of Tucson's private and exclusive historic adobe homes.)  Each ticket to this event includes a home tour ticket.
Buy a ticket to the Cocktail party.
INFORMATION FOR HOME TOUR TICKET HOLDERS 
This is a self-guided tour.  Once you have parked, you can walk to all of the houses.  Docents will be present at each house to share the history and significance of these remarkable properties.  You may see the homes at your own pace.
Because of the close proximity of these homes to each other and in an effort to alleviate waiting you should have received an email with a suggested arrival time that will leave ample time to see all of the houses. These are suggested arrival times only. We will work to accommodate all ticket holders.
Where to Pick Up Your Tour Maps and Admission Wristbands.
Check in Table at Fort Lowell Park
2900 N. Craycroft Road (Fort Lowell Road and Craycroft Road)
Northeast corner of the main parking area near Cottonwood Land and Hospital Ruins
Look for the signs.
Tickets Purchased Online or at a Retailer
When you arrive please check-in at our tables to receive your map and wristband.
If you were unable to print your ticket we will have your name on our list at the check in.
Each attendee will need to be wearing a wristband to be admitted to the houses. No exceptions.
Parking
We recommend carpooling with friends if possible.
Parking is available in the parking lots at Fort Lowell Park: 2900 N. Craycroft Rd. and the New Testament Baptist Church: 2855 N Craycroft Rd. (NW corner of Glenn Street and Carycroft Road)
see map below for parking locations.  
PARKING IS NOT PERMITTED ON FORT LOWELL ROAD OR IN THE NEIGHBORHOOD WEST OF CRAYCROFT ROAD.  We know that some attendees cannot walk long distances and have arranged for limited disability parking in the neighborhood.  The check-in team can direct you to this parking lot once you have checked in.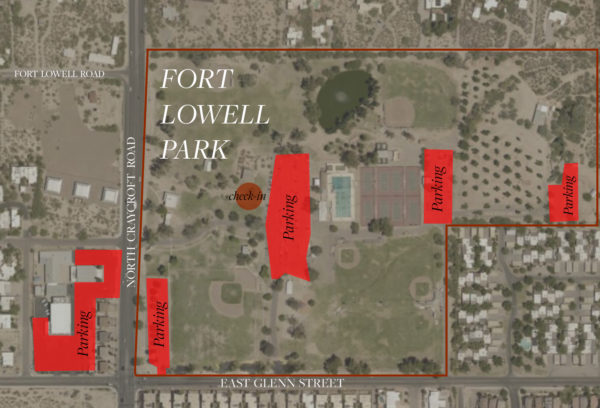 Accessibility
Because these private home are historic and most over 100 years old, there are irregular surfaces, dirt drives, stairs, steps and narrow doorways.  As a result, access for the disabled is limited. Our docents will be as accommodating as possible and offer assistance, but most parts of the tour are not wheelchair accessible. Many homes require a traverse of a long driveway or steps. Transportation between locations is not available. We recommend wearing comfortable shoes and sunscreen. If you are unable to walk between houses, there is very limited street parking near each of the properties with remaining access will be down long dirt driveways.
Remember
No interior photography is allowed.  No food or drink will be allowed in the homes.
We look forward to seeing you on March 24
If you have any questions email: info@preservetucson.org