Miniaturizing Ball Paylore with Michael Yurkovic
Tucson Modernism Week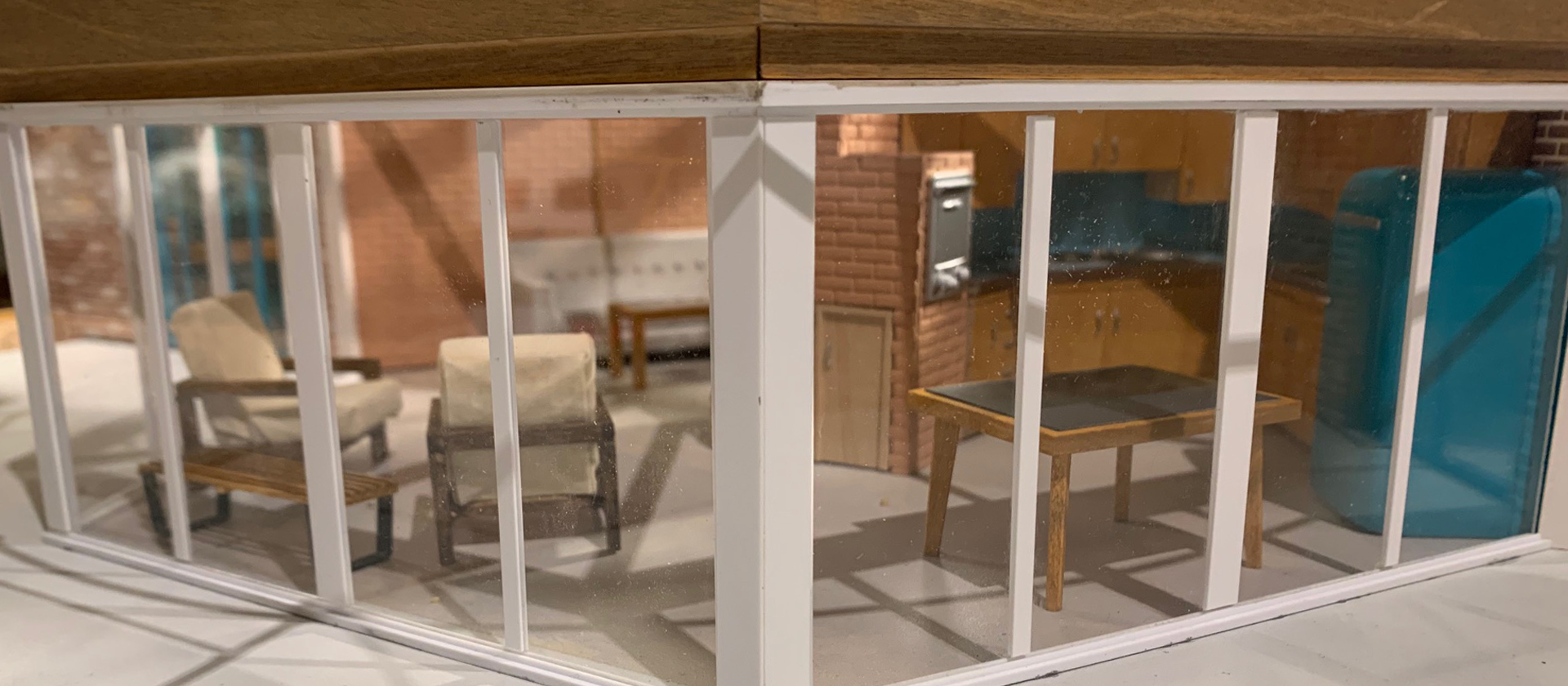 The original Ball-Paylore House is a passive solar home designed and built by renowned architect Arthur T. Brown in 1952. Acquired and restored by the Tucson Historic Preservation Foundation, the Mini Time Machine Museum of Miniatures commissioned Michael Yurkovic to create a miniature of the house for the museum's permanent collection. 
The house is an important step toward filling gaps in the museum's permanent collection.  The piece, exemplifying mid-century architecture, adds to an area of the Museum's collection they would like to expand.  The miniature, created by an established contemporary artist, highlights a local, historic property and opens pathways for the museum to develop STEAM programming on the topics of architecture, engineering, and sustainable building.
Michael Yurkovic brings his variety of experience as an Industrial Designer, Toy Inventor, Technical Illustrator, and Machinist to each piece he creates in miniature. He holds the ranking of Artisan in the International Guild of Miniature Artisans. Michael's works have been featured in The Art Institute of Chicago, the Museum of Modern Art in New York, and the KSB Miniature Collection in Maysville Kentucky. Michael regularly teaches workshops around the United States, including at The Mini Time Machine Museum in Tucson, and will expand his schedule in 2022 to include the Netherlands, London, and Denmark. His latest works are inspired by stories, or narratives, which guide the creation of a new piece, often developing organically with the project. He invites the viewer to connect with the piece, and to fill in the blanks with their own thoughts and interpretations. His guiding mantra is, 'the closer you look, the better it gets'.
Michael Yurkovic will be recreating the historic Ball-Paylore House in half-inch scale (where half an inch equals 12 inches in life-size), using mixed materials and based on historical photographs, drawings, and site visits. The commission will include both the interior and exterior of the home with a removable roof for optimal views of the interior. The Ball-Paylore Miniature House Project was completed Fall of 2021 and debuts with the museum's fall exhibit, Atomic Miniatures: Michael Yurkovic's Modern Musings, featuring his timeless, miniature mid-century modern designs.
This virtual event was recorded Saturday November 6, 2021.
Miniaturizing Ball Paylore with Michael Yurkovic