Bus Tour: Holy Modern, Tucson's Iconic Sacred Spaces
Sat
10/5
11:00 AM - 2:00 PM
LOCATION: Depart: Hirsh's Shoes Building 2934 E Broadway Blvd, Tucson, AZ 85716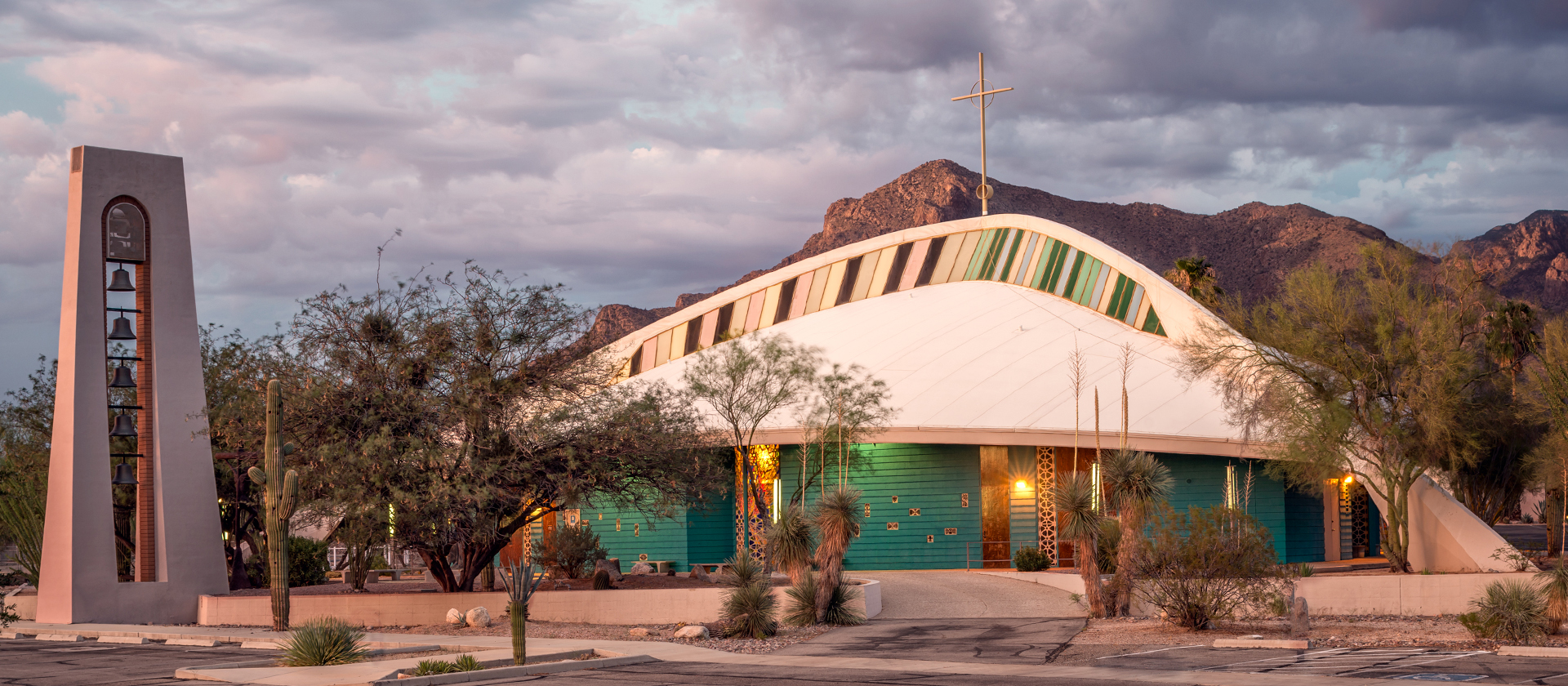 This tour led by Architect
Elaine Becherer
and Tucson Historic Preservation Foundation CEO
Demion Clinco
will visit a selection of fascinating sacred spaces and modernist religious buildings.
Following WWII, Tucson began an expansive transformation triggered by population growth.  New neighborhoods and subdivisions were designed; construction fueled by the GI bill, robust financing tools and a new American optimism.  Innovative and original architectural styles emerged with an emphasis on materials and form, a seismic departure from the traditionalist revival styles of the first half of the twentieth century.  As the population increased, the footprint of Tucson expanded in every direction. New commercial and cultural infrastructure developed to meet intensifying needs. Schools, libraries, shopping centers and religious buildings emerged the edges of new neighborhoods in an array of popular design trends.
The Tucson citizen wrote in 1954:
By 1954 the 125 churches in the Tucson area were investing in building projects Totaling 2 million. "Tucson is a city of churches – some of them old, many of them new and glistening.  In many different (and sometimes startling) ways, they press the reverence and faith..." Soaring walls of glass frame inspiring mountain visits in a number of churches more recently built. Modern materials used in modern ways give a look of individuality.
These religious buildings were a significant community investment.  While the traditionalism of faith seemed in revolutionary juxtaposition to innovative and progressive architectural design, young congregations joined with a new generation of architects to create groundbreaking projects. The new buildings both reconciled cost limitations and embraced a shift away from the classical cruciform plans to a more intimate modern interpretation of space.  The simplification of form and elimination of ornament were tenants of the modern movement. The new sacred spaces reflected exuberance and restrain; elegance and reserve. The interiors embraced an honesty of construction exposing raw materials and structural systems, an idiom that created an emotive language: uplifting, meditative, stirring and contemplative.